Capital Economics Points to Higher UK Inflation
Wednesday 15 September, 2021
Written by Capital Economics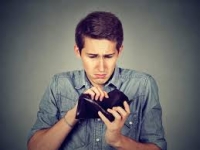 INFLATION - The leap in CPI inflation from 2.0% in July to a nine-year high of 3.2% in August (consensus 2.9%, CE 3.1%) is the first step in a rise that may take inflation to 4.5% or above by November. But as inflation will fall back almost as sharply next year, we don't think the MPC will raise interest rates until mid-2023.
About 0.9 percentage point (ppts) of the rise in CPI inflation in August was due to base effects linked to the sharp fall in prices in August 2020, most of which was driven by the Eat Out to Help Out restaurant discount scheme. Back then catering services prices fell by 5.8% m/m, but this August they rose by 0.2% m/m. That pushed up catering services inflation from 1.4% to 7.9%. The rises in inflation in furniture (from 2.9% to 3.7%) and recreation (0.7% to 2.4%) were due to similar but smaller base effects.
But about 0.3 ppts of the rise in CPI inflation was driven by stronger underlying price pressures. The 5.9% m/m rise in hotel prices in August was much bigger than the 0.6% m/m fall that normally happens in August. That pushed up hotel price inflation from 5.7% to 11.6%. And the combination of strong demand and limited supply (due to semiconductor shortages) were behind the rises in new car inflation from 2.5% to 3.3% and the further leap in second-hand car inflation from 14.4% to 18.3%. Shortages and the rises in shipping and commodity costs probably explain some of the rise in food inflation from -0.5% to +0.2%.
A further rise in CPI inflation to 4.2% is already baked in the cake. The scheduled 12% increase in utility prices will add 0.7 ppts to inflation from October and base effects mean clothing inflation will add 0.3ppts in November. On top of that, we're also expecting a further pass-through of costs to mean that food inflation adds an extra 0.3ppts or so to inflation. Indeed, the further rises in total producer input price inflation (from 10.4% to 11.0%) and producer output price inflation (5.2% to 6.0%) show that cost pressures are still building. Both are at 10-year highs. By November, CPI inflation may have risen to 4.5%, if not a bit higher.
Inflation will fall sharply next year as a lot of these upward influences unwind. By the end of 2022, it may be below 2.0% again. (See Chart 1.) That, and the recent weakening in the near-term activity outlook, explains why we think the MPC won't raise interest rates until 2023. But there is a whiff of stagflation in the air and the next six months of soaring inflation will be an uncomfortable period for the MPC.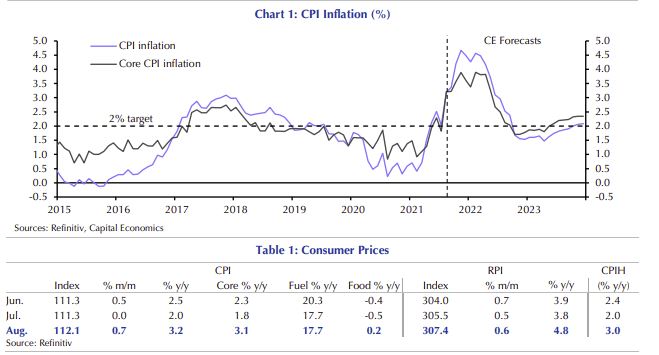 ABC Note: ONS shows house price growth hit 17-year high.
Today's ONS House Price Index shows that the average UK house price rose by 8.0% over the year to July 2021, which was down from 13.1% the month before.
ABC Comment, Have your say below: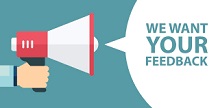 1

comment
Leave a comment
Make sure you enter all the required information, indicated by an asterisk (*). HTML code is not allowed.