The Ipswich Job Fair, at the Corn Exchange in Ipswich Pack's Em' In
Thursday 07 November, 2019
Written by Simon Collyer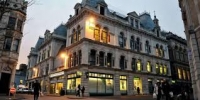 EXHIBITION - The Ipswich Job Fair, Job Fair at Corn Exchange in Ipswich on 6th Nov 2019 (Wed, 6 Nov, 10:00 – 13:00) run by Jobs Fair was a well attended event. It was good to see some different employers attending as these events which have often seem to be dominated by the care homes sector in recent years.
Jobs Fair, the event's organisers are running around 170 events in 2020 and the organisation continues to grow their offer. There are other job fairs however and Ipswich Council HR department claim to support events each month of one sort or another.
The Civil Nuclear Constabulary – the leading UK authority on the armed protection of the civil nuclear industry were exhibiting. Seventeen weeks of training gives new Police Officers everything they need to know to become highly trained firearms professionals. You can train to become a Dog handler, Special Branch Officer, Firearms Instructor or a Strategic Escort Group Officer: www.cnc.jobs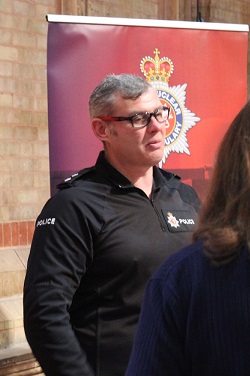 Image: The Civil Nuclear Constabulary.
The how to write a CV stand was the most eye-catching in custard yellow, yet no one was available and none of the leaflets gave much of a clue who was running this service. We would have liked to have known more.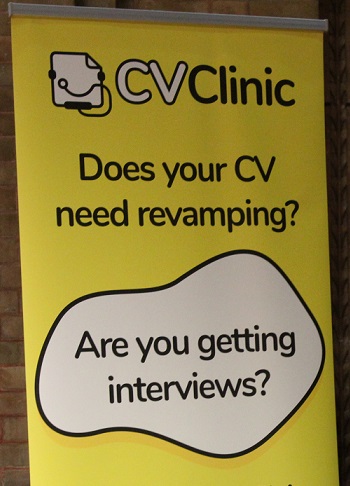 Scoots Hire based in Dereham, Norfolk, provides mopeds and scooters from just £5.57 per day. If you have a job and need to get mobile this is one solution. The all Honda fleet is available throughout Norfolk, Suffolk, Bedfordshire, Cambridgeshire, parts of Essex, Hertfordshire, Lincolnshire and Huntingdonshire. No deposit is needed, and you don't need to come to the offices. You will have to be vetted but it is all done on-line. www.scoots-hire.com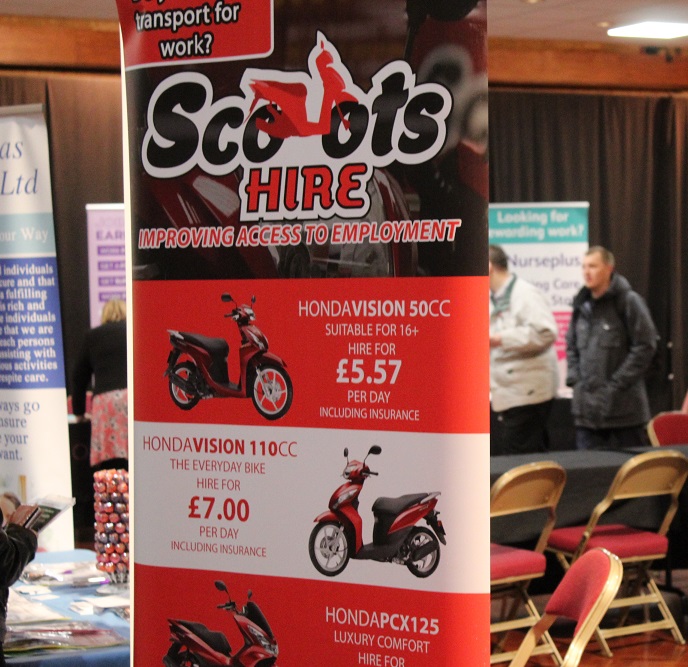 Image: Scoots Hire can get you to work for a very modest cost.
Avenues provide supported living, residential and outreach services across London, Kent, Surrey, Sussex, Suffolk, Cambridgeshire and Shropshire. They support people with learning disability, autism, and brain injury to make choices, build relationships and enjoy life. If you want to use your life skills to support people in your community they are recruiting: www.avenuesgroup.org.uk
Ipswich Borough Council were busy with a variety of vacancies on offer. You can sign-up for weekly job alerts at www. ipswich.gov.uk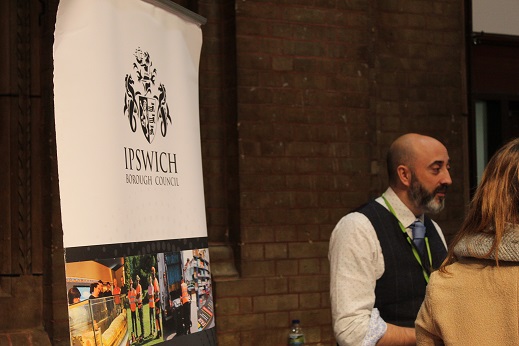 Fancy working as a merchandiser in major stores? You can earn £8.21 per hour and work between 5-10 hours per week. Your travel and mileage are paid. There are flexible hours over a seven-day week. Completely tailored to fit around childcare, studies and family commitments say the agency. Apply online at www.expd8.co.uk/register-for-a-vacancy.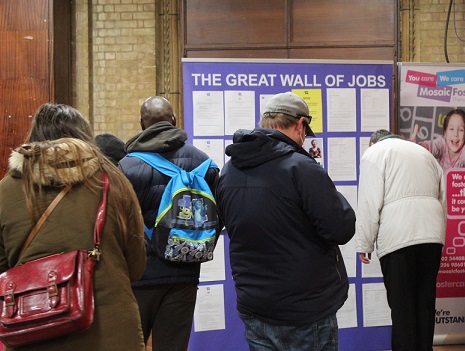 Image: One of the job walls.
BT was recruiting and looking for people who can run networks from the Adhara operations centre at Adastral Park. BT recruit Apprentices, Graduates, Network Engineers & Leaders. Email; This email address is being protected from spambots. You need JavaScript enabled to view it.
Cephas Care Ltd provide a range of jobs in the care industry across Norfolk and Suffolk. If you want to make a difference to someone's life you can find out more on; www.cephas-care.co.uk Jobs include care Manager, Deputy Care Manager, Senior Support Worker and Support Workers. Hours are flexible.
Active Assistance is also recruiting live in & out Care Assistants, Nurses, Care Coordinators, Mobilisation Teams, Senior Support Workers and many other positions. See here: www.activecaregroup.co.uk
Avon has been trading over one hundred and thirty years and this year is an important anniversary in the UK. You can sell and work ad hoc, or you can build your team and progress to a high income. Locally meetings are held in the Holiday Inn, London Road, IP2 0UA. Sacha Blacker is the regional Avon manager. Sacha can be contacted on 07734 879 038.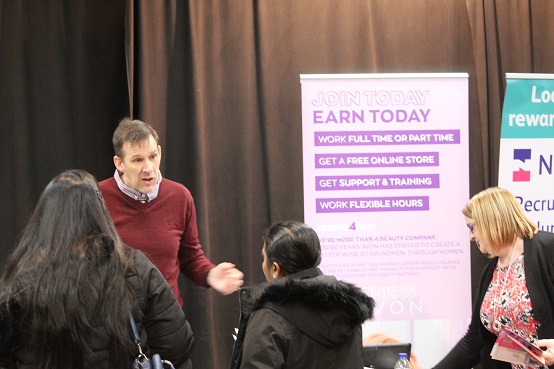 Image: There was plenty of good advice on hand from exhibitors.
PeoplePlus provide skills training in a safe and positive learning environment. They offer a wide range of training courses in maths, English IT and a whole variety of other skills needed in today's workplace. They have supported over 170,000 people into work since 2011. They are based in Fraser House, 23, Museum Street, Ipswich IP1 1HE. To book a place email: This email address is being protected from spambots. You need JavaScript enabled to view it.
Grove Social Care is an agency who provide workers to companies who deliver support and accommodation to young people. Are you interested in providing support? You can find out more: www.grovesocualcare.co.uk
Fancy getting on the tools? Orwell Housing Association were offering apprenticeships in plumbing. Orwell are based in Lowestoft, You can contact Orwell Housing www.orwell-housing.co.uk and they will get you started towards learning a trade.
A career in teaching can change lives. The Colchester Teacher Training Consortium is looking for recruits. If you are looking for new opportunities and to develop new skills the CTTC partnership was established 15 years ago and includes over 40 local schools and colleges. Annually CTTC trains around 80 primary and secondary teachers from its base at Colchester County High School for Girls. www.colchesterttc.org.uk
Reed had a prominent stand. A variety of recruitment consultants attended. Marcella McGovern Cert PRP looks after temporary vacancies. You can contact Reed on Tel 01473 295090 or visit the website: www.reedglobal.com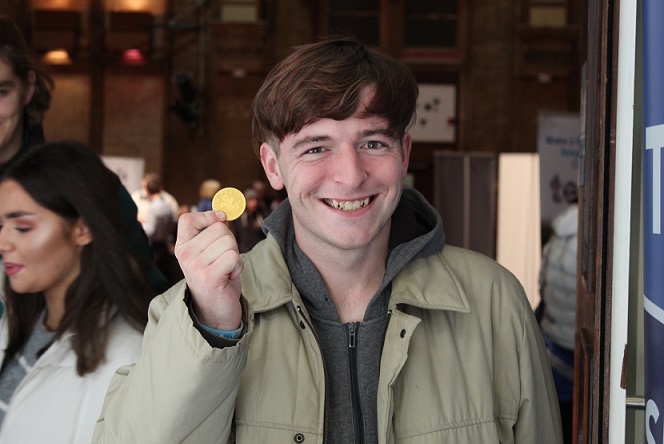 Image: One happy job seeker came away with a Reed gold coin. Not quite wages yet..but one day!
These were just a few of the exhibitors attending.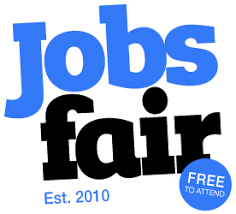 The ABC will be visiting next:
Job Fair at Excel in London E16
Fri 15 Nov – Sat 16 Nov
ExCeL London, Royal Victoria Dock, 1 Western Gateway
London
ABC Comments, were you present, what did you think of the show?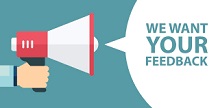 1

comment
Leave a comment
Make sure you enter all the required information, indicated by an asterisk (*). HTML code is not allowed.