Very Significant Fall in Irish Unemployment
Tuesday 01 May, 2018
Written by Simon Collyer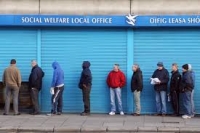 Employment Affairs and Social Protection Minister, Regina Doherty, T.D., has welcomed the latest monthly unemployment figures announced today by the CSO. The monthly unemployment rate has continued to fall month-on-month over the past year to 5.9% in April 2018. This represents a total fall in the unemployment rate of 0.9 percentage points since April 2017 when unemployment stood at 6.8% and is the lowest monthly unemployment rate since May 2008.
Minister Doherty said:
"The figures published today are further evidence that our growing economy is continuing to generate strong employment, and that we have made significant progress in reducing unemployment. Today is the first time monthly unemployment has fallen to under 6% in 10 years.
"This is a significant milestone, considering unemployment was at 16% just six years ago.
"These figures show that the employment supports provided by my Department to both jobseekers and employers are working well. Our activation measures are working well. As Minister for Employment Affairs and Social Protection I will ensure that the Department continues to provide this wide range of comprehensive supports and services to jobseekers."
ABC Note: We apologise to our Irish audience for this Spike Milligan sketch. However, it has us in stitches. Who could seriously accuse Spike Milligan of racial stereotyping. Spike allegedly has, 'I Told You I Was Ill' carved on his gravestone!
Spike Milligan - Irish Astronauts
1

comment
Leave a comment
Make sure you enter all the required information, indicated by an asterisk (*). HTML code is not allowed.