Hungary Viktor Orbán's right-wing Fidesz Party Wins Again
Monday 09 April, 2018
Written by Politico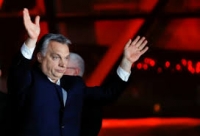 Viktor Orbán's right-wing Fidesz party won a landslide third-term victory in Hungary's general election on Sunday, setting the stage for the prime minister to pursue his nationalist vision and fight more battles with Brussel over migration, Muslim populations, EU integration and the functioning of democratic institutions.
The government's pitch on jobs was that real wages are up and unemployment down: a record low of 3.8 percent, after 66 consecutive months of decline. In 2010 at the end of eight years of socialist-liberal government, unemployment reached 11.8 percent.
Today the government says 741,000 more people are employed than in 2010 bringing unemployment under four percent, although many experts point to government manipulation of employment statistics through its public works program, which pays citizens less than the legal minimum wage (which is just over 400 euros per month or £348.66pm Sterling).
Orbán, who built a fence on Hungary's southern border during the 2015 migration crisis, constructed his election campaign around a strong nationalist and anti-migrant message.
Image: Viktor Orbán's right-wing Fidesz.
Leave a comment
Make sure you enter all the required information, indicated by an asterisk (*). HTML code is not allowed.