Jobseekers Head for Dublin Castle
Thursday 29 March, 2018
Written by Simon Collyer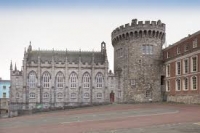 At least 2,500 jobseekers are expected to attend the 5th annual Intreo Careers Fair at the Printworks Conference Centre, Dublin Castle today which runs from 10.00am to 3.30pm. The Careers Fair is organised by the Department of Employment Affairs & Social Protection.
Over 50 exhibitors will take part, primarily employers seeking to fill vacancies in their organisations, offering roles in construction, sales, hospitality, healthcare, retail and accounting among others. Hundreds of different types of roles are available across a range of experience levels and occupations including the Public Appointments Service.
There will also be lots of advice on training, upskilling and job search supports available throughout the day. Jobseekers will be able to avail of one to one personalised professional career and job searching advice from HR and recruitment specialists. 40 professional career coaches will be offering 200 career coaching appointments during the day.
Attendees can also avail of seminars running throughout the day on topics ranging from 'Social Media Job Searching' and 'Accessing the Hidden Jobs Market' to 'Starting your own Business', 'Re-Entering the Jobs Market' and 'Careers in the Public Service'.
Leave a comment
Make sure you enter all the required information, indicated by an asterisk (*). HTML code is not allowed.