Extensive Consultation on How The Department Of Employment Affairs & Social Protection Supports People With Disabilities To Obtain And Retain Employment
Wednesday 07 March, 2018
Written by Simon Collyer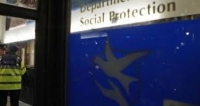 Wednesday, 7th March 2018: Employment Affairs & Social Protection Minister, Regina Doherty T.D., and Minister of State with special responsibility for disabilities, Finian McGrath T.D., today launched an extensive consultation on how the Department of Employment Affairs and Social Protection supports people with disabilities to obtain and retain employment.
The purpose of the consultation is to engage with people with disabilities, parents of children and young adults with disabilities, and sectoral representatives, on proposals relating to early engagement with people with disabilities, in line with recommendations 9a and b, and 10, of the Make Work Pay report.
The Make Work Pay report, published in April 2017, was compiled following a commitment in the Comprehensive Employment Strategy to better identify how people with disabilities could take up work. The report's recommendations included how the Disability Allowance payments and other schemes should be reconfigured for new entrants aged 18 and over to ensure that their work ambitions could be explored systematically at an early age ('the principle of early engagement').
Specifically, the report recommended:
* Reconfigure the Disability Allowance scheme for new entrants to give effect to the principle of early intervention, as follows:
* Support for 16-18 year olds with significant support needs, which is currently paid by means of Disability Allowance, to be paid via Domiciliary Care Allowance up to 18 years of age
* Explore possibilities for the reform of the structure of the Disability Allowance for those between the ages of 18-22, to focus on participation in education, training and/or social inclusion according to individual capacity.
* Apply the principle of early intervention across all illness and disability schemes, adapting existing schemes where necessary to give effect to this principle.
Following the publication of the report, the then-Minister for Social Protection An Taoiseach Leo Varadkar T.D. indicated that the Government wanted to consult with people with disabilities and their families in relation to some of its recommendations.
Speaking at the launch Minister Doherty said: "People with disabilities are still only half as likely to be in employment as others of working age. Census 2016 figures show that the employment rate for people with disabilities of working age is 37%, compared to a rate of 73% for people of working age without a disability.
"From the outset, young people with disabilities are likely to start out with lower employment rates. While people with disabilities in their late-20s and early-30s do take up work in significant numbers, employment rates are considerably lower than their non-disabled peers. The gap widens with age; people with disabilities are more likely to drop out of employment sooner than their counterparts.
"Bringing people with disabilities into employment has huge benefits for everyone involved. It is an opportunity to tap into the substantial talent pool available within the cohort of people with disabilities. There are many positive effects from having a more diverse and cohesive work force."
Welcoming the consultation process, Minister McGrath said: "One of the main issues that we would like to get a response on is the principle of 'early engagement'. This means that the State will offer people, especially young people with disabilities, supports such as education, training, and social inclusion opportunities at an early stage, to help them achieve their employment goals.
"Aligned with this is a proposal to change the age at which Domiciliary Care Allowance ends and Disability Allowance starts. Given the sensitive nature of the proposal, it is right to consult with the parents who are paid the Domiciliary Care Allowance for their children.
"As these recommendations may affect you and your family, it is important that we hear your views on them. I would like to reassure people that if you participate that your answers will not affect your current or future social welfare claims. Therefore, I strongly encourage you to participate fully in the consultation process and to make your voices and the voices of those you represent heard."
Today's launch was held in Richmond Barracks, Inchicore, where the café, is a social enterprise run by WALK (Walkinstown Association for People with an Intellectual Disability), that supports and trains people who have disabilities for other employment. Both Ministers Doherty and McGrath visited the café and met some of the employees of this social enterprise.

Leave a comment
Make sure you enter all the required information, indicated by an asterisk (*). HTML code is not allowed.