Scotland - Modern Apprenticeship Starts on The Up
Sunday 04 March, 2018
Written by Simon Collyer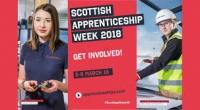 More women, disabled and BAME entering high skilled training places
The number of people starting a modern apprenticeship has increased by over 500 since the same period last year, latest stats show - as Scotland marks Apprenticeship Week.
When compared with the end of Quarter 3 last year, there are now 529 more people enrolled in Modern Apprenticeships - a total of 18,774. And the latest statistics also show that there are over 500 more disabled people, 500 more people from BAME backgrounds, and more women undertaking Modern Apprenticeships compared to last year.
The Scottish Government has increased the number of new apprenticeships from 10,500 in 2008 to 28,000 in 2018-19 - and is on track to achieve 30,000 new apprenticeship starts by 2020.
Commenting, SNP MSP Gillian Martin said:
"The Scottish Government's action to increase the number of Modern Apprentices since 2007 has been transformational - and these figures prove the action is having a positive impact on women and minority groups.
"Not only are we seeing more people starting modern apprenticeships than last year, but we're also seeing more women starting, more disabled people starting and more people from BAME backgrounds starting.
"And the Scottish Government remains on course to achieve its target of 30,000 new apprenticeship starts by 2020.
"The fact we have over 500 more Modern Apprenticeship starts than the same time last year is great news to kick off this year's Apprenticeship Week."
Leave a comment
Make sure you enter all the required information, indicated by an asterisk (*). HTML code is not allowed.