Parental Leave (Amendment) Bill 2017 Helps Irish Parents
Thursday 08 February, 2018
Written by Simon Collyer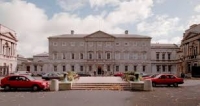 Social Democrats co-leader Róisín Shortall will bring the party's Parental Leave (Amendment) Bill 2017 to the Dáil on Thursday 8th February 2018.
The Bill extends unpaid parental leave for working parents from 18 weeks to 26 weeks. The government has indicated that it will not oppose the Bill.
Image: Róisín Shortall TD
Leave a comment
Make sure you enter all the required information, indicated by an asterisk (*). HTML code is not allowed.