New Deal For Young Irish Workers
Saturday 27 January, 2018
Written by Simon Collyer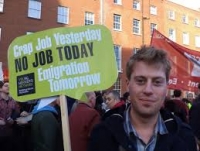 Social Democrats call for New Deal for Young Workers

The Social Democrats have called for a 'New Deal for young workers' to end the dumbing down of pay and conditions and remove barriers to good quality employment. The call comes as the party holds its second National Conference in Dún Laoghaire, Co Dublin.

Commenting ahead of the leaders' address tonight, the party's co-leader Róisín Shortall TD said:

"Far too many of our young people are locked out of secure employment, decent conditions and fair pay. Increasing globalisation raises huge questions about the future of employment which too often appears like a race to the bottom.

"The driving down of standards in work through low pay, zero-hour contracts, bogus self-employment and the growth of the gig economy all pose major challenges for our society, and for young workers in particular.

"All workers should have a right to expect that hard work is properly rewarded, that work-life balance is possible, and that they can have a legitimate expectation that a decent job will allow you to live a decent life."

Deputy Shortall said the Social Democrats were calling on the government to introduce a new deal for workers by legislating to:
End precarious working arrangements;
Introduce a living wage;
Strengthen rights to collective bargaining;
Close the gender pay-gap;
End the blatant discrimination against young new entrants into our public service.
Deputy Shortall added: "It is shocking that we still have to call for equal pay for equal work. No wonder we have shortages in nursing and teaching.

"A New Deal for young workers must be one which recognises their value in every sector and their need for security and pay equality. Fair pay and conditions are also vital if we are to achieve high productivity and quality employment evident in other countries where social democracy is at the heart of their politics."
Leave a comment
Make sure you enter all the required information, indicated by an asterisk (*). HTML code is not allowed.