The EU Youth Employment Initiative
Friday 05 January, 2018
Written by Simon Collyer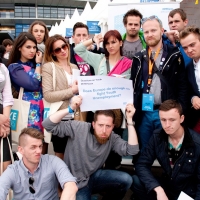 Starting your professional life isn't easy when you lack experience. You can't ever lose hope, you mustn't, but there are days when you think, My Goodness. I don't seem to have enough professional experience in my own field or even in other less qualified fields.
Tackling this problem head-on is the aim of the Youth Employment Initiative, an EU-wide financial instrument that provides support to young people living in regions with high youth unemployment.
Since 2013, this instrument has funded youth employment provisions like apprenticeships and traineeships. It supports job placements and helps Europeans under 25 in need of qualification to further their education. The aim is to act within four months of ending their studies, or becoming unemployed. The European Parliament is now pushing for innovative ways to create jobs, promote long-term employment for the young, and drive policy change across Europe. We support YEI as a more stable and targeted instrument. It is now crucial that Member States also play their role with efficient measures at the national level.
Providing opportunities and hope for its youth is an existential challenge for the EU as a whole.
Leave a comment
Make sure you enter all the required information, indicated by an asterisk (*). HTML code is not allowed.