Ireland - Department of Employment Affairs and Social Protection Assists Areas Affected by Storm Eleanor
Wednesday 03 January, 2018
Written by Simon Collyer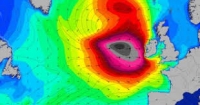 Staff from the Department of Employment Affairs and Social Protection will be available from early Wednesday, 3 January to support householders in areas affected by Storm Eleanor. The Department's Community Welfare Services staff will engage with the relevant local authorities and will quickly assess the level of service required across the country, particularly in the Galway area. This interagency response ensures that supports will be provided to those affected as swiftly as possible. As the clean-up operations begin, financial supports will be made available to householders affected and the Humanitarian Assistance scheme activated as necessary.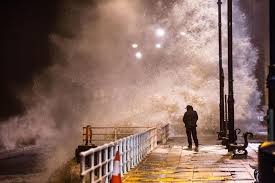 Image: Storm Eleanor.
The Minister for Employment Affairs and Social Protection, Regina Doherty TD has said "we are on standby to help anyone whose homes may have been affected by today's flooding. Staff from the Department will be available to support those in the affected areas tomorrow morning and we are ready to activate the HAID at anytime should residential properties have been damaged from extreme weather today. I would urge families and individuals in need of assistance to contact their local Intreo Centre where our Community Welfare Service Teams are available to assist them."
1

comment
Comment Link

Wednesday 03 January, 2018

posted by Simon Collyer

Storm Eleanor gave people a bumpy night however in Ireland things were rather worse.

Report
Leave a comment
Make sure you enter all the required information, indicated by an asterisk (*). HTML code is not allowed.