Disability Day in the European Parliament Hemicycle
Wednesday 06 December, 2017
Written by Simon Collyer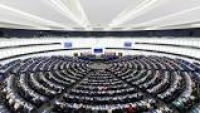 Around 600 people with disabilities will today participate in an all-day event in the European Parliament's hemicycle, coinciding with the 20th anniversary of the founding of the European Disability Forum. President Antonio Tajani and Commissioners Marianne Thyssen and Christos Stylianides will give keynote speeches.
EDF in cooperation with the European Parliament is actively preparing the 4th edition of a major event: the European Parliament of Persons with Disabilities (EPPD). The EPPD is a landmark event which represents a unique opportunity for European citizens with disabilities, both leaders and grass-root activists, to have a dialogue with their elected representatives and speak up for their rights. It is a unique event which shows Parliament's support to persons with disabilities and the importance of the dialogue between European citizens with disabilities and their MEPs. The discussions will focus on the right of persons with disabilities to vote and participate in political and public life, the European Disability Strategy 2020-2030 and the implementation of the United Nations Convention on the Rights of Persons with Disabilities (UN CRPD) by the European Union (EU).
The event will take place on Wednesday 6 December (whole day) in the European Parliament in Brussels (plenary chamber). It will bring together hundreds of delegates of representative organisations of persons with disabilities from all over Europe, Members of the European Parliament (MEPs) and high level representatives of other EU institutions. Already more than 600 delegates with disabilities from across Europe have confirmed their participation in the event.
The President of the European Parliament, Antonio Tajani, and EDF President Yannis Vardakastanis will open the event.
Speakers include, among others:
Emily O'Reilly, European Ombudsman
Georgios Dassis, President of the European Economic and Social Committee (EESC)
Dimitrios Papadimoulis, Vice President of the European Parliament
Marianne Thyssen, European Commissioner for Employment, Social Affairs, Skills and Labour Mobility
Christos Stylianides, European Commissioner for Humanitarian Aid and Crisis Management
Jana Hainsworth, President of Social Platform
During the event, delegates with disabilities will adopt a) a resolution on the European Disability Strategy, b) a manifesto on accessible European elections 2019 and c) an emergency resolution on a strong European Accessibility Act.
The resolution on the European Disability Strategy is also available in Easy To Read version here The Manifesto on accessible European elections 2019 is also available in Easy To Read version here
20 years EDF
This year, the 4th EPPD will coincide with the 20th anniversary of EDF, and the European Day of Persons with Disabilities. EDF was created in 1997 to give persons with disabilities one common voice at European level and to ensure that decisions concerning persons with disabilities are taken with persons with disabilities, through their active involvement in policy and decision-making: This is the basis of our motto 'Nothing about us without us'.
A photo exhibition with photos from important moments of EDF's 20-year history will take place outside of the hemicycle.
The previous editions of EPPD took place in 1993, 2003 and 2012. After the 3rd EPPD, political Group Leaders agreed to hold it once per legislature.
The conference will be webstreamed live, with subtitles and international signs interpretation on the European Parliament Web TV as well as on this page on EDF wesbsite.
To ensure people with disabilities have equal representation and opportunities in society and in the workplace, the European Parliament is looking to further the EU-wide Disability Strategy, tackling issues such as gender equality, poverty and discrimination. MEP Helga Stevens has long been involved in the fight for the rights of people with disabilities. She argues that more can be done for the disabled in terms of representation and inclusiveness.
Leave a comment
Make sure you enter all the required information, indicated by an asterisk (*). HTML code is not allowed.