Opposition Day Debate: A Debate on Universal Credit on A Motion in The Name of The Official Opposition
Tuesday 05 December, 2017
Written by Simon Collyer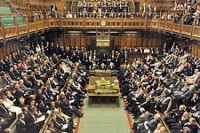 House of Commons
Tuesday 5 December 2017 Meeting starts at 11.30am
Oral questions: Justice (including Topical Questions)
Ten Minute Rule Motion: Service Animals (Offences)

Rt Hon Sir Oliver Heald QC MP (North East Hertfordshire, Conservative)
Opposition Day Debate: A debate on Universal Credit on a motion in the name of the Official Opposition
Sir David Amess MP (Southend West, Conservative)
Theresa May is facing fresh pressure over Universal Credit after Labour unveiled plans to force ministers to publish secret reports on detailing the controversial policy's impact on the poorest.
In an Opposition Day motion on Tuesday, Jeremy Corbyn's party will seek to stage a binding Commons vote to release the documents which the Government refuses to make public.
The Department for Work and Pensions drafted five "Project Assessment Reviews" between 2012 and 2015 to alert civil servants and ministers to potential pitfalls of the Tories' flagship welfare reform programme.
But despite rulings by the Information Commissioner that the documents' publication is in the public interest, the Government has still not released them.
ABC Note: A Conservative MP Heidi Allen wept in the House of Commons after hearing of the desperate situations of people affected by government welfare reforms. Heidi Allen's voice cracked and she was visibly emotional following the speech by Labour's Frank Field, chairman of the Work and Pensions Select Committee.
Move the slider to 15:41:00 to listen to Frank Field's speech.
Opposition Day Debate: A debate on Universal Credit on a motion in the name of the Official Opposition
Leave a comment
Make sure you enter all the required information, indicated by an asterisk (*). HTML code is not allowed.