Unemployment Time Bomb In The Middle East
Saturday 02 December, 2017
Written by Politico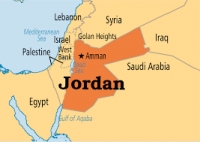 The U.K.'s long-term aim in the Middle East is economic development, and May's officials make a powerful case for using British aid cash to manage a regional demographic time-bomb. One U.K. official highlighted stats showing a staggering 24 percent of Jordanians are under the age of 14. Officials say this population explosion can be positive if the local economy is thriving. But if it is not, the implications for mass migration toward Europe are stark indeed.
ABC Comment: The Arab Spring was kicked off by high graduate unemployment in places like Tunisia. Some people criticize our Foreign Aid budget, but it is a useful tool and gives us leverage overseas. It is also right and just that we help people if we can.
Leave a comment
Make sure you enter all the required information, indicated by an asterisk (*). HTML code is not allowed.