Inclusion Scotland Welcomes the ABC Aboard
Friday 17 November, 2017
Written by Simon Collyer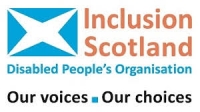 We have been asked to join Inclusion Scotland and we have proudly signed up as an associate organisation!
This is Inclusion Scotland summarized in their own words:
Inclusion Scotland is run by disabled people ourselves. This is important because disabled people know best about the barriers that prevent our full inclusion into Scottish society. We experience them every day. But we cannot remove them by ourselves. We need allies and supporters. We need those in power to hear disabled people's voices and work with us to remove these barriers.
The organisation does great work and we are keen to hear more about the issues the disabled have, especially those whom we know are battling to claim PIPs. Employers who dicriminate against the disabled don't deserve to be in business and we all need to work together to see that everyone is included in society and treated with fairness and dignity.
We hope to visit sunny Scotland in the not too distant future, and that would include meeting those we have special relations with.
Leave a comment
Make sure you enter all the required information, indicated by an asterisk (*). HTML code is not allowed.