Homeless Kicked-Out to Make Way for UEFA Champions League Final
Saturday 03 June, 2017
Written by Simon Collyer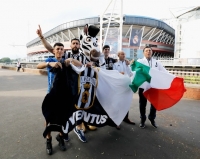 Following reports that homeless people are being forced to leave Cardiff as part of the preparations for the Champions League final on Saturday, Plaid Cymru Leader, Leanne Wood, said:
"£45 million is expected to be generated by this weekend's events in Cardiff. Yet the homeless population in our capital are being kicked out and hidden away. The millions of pounds in profit made by international corporations coming to Cardiff should not come at a human cost.
"This is a shameful practice that only serves to damage the image and reputation of our capital city, not enhance it.
"The First Minister has a moral obligation to intervene and stop this cruel act now. We should address the issues facing the people of our capital, not try and airbrush them out."
Leave a comment
Make sure you enter all the required information, indicated by an asterisk (*). HTML code is not allowed.