Welfare Benefits and Tax Credits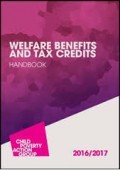 Tactical guidance is included throughout to help navigate the complexities of the system and enforce your rights.
It includes full details on:
the new state pension;
the roll-out of universal credit;
statutory shared parental pay;
rent restrictions;
mandatory reconsiderations;
sanctions.
Fully indexed and cross-referenced to law, regulations, official guidance, and court, Upper Tribunal and commissioners' decisions, it is an essential resource for claimants, advisers, local authority staff and lawyers.
Key Info
30 Micawber Street
London
N1 7TBUnited Kingdom
Features
Products
Location:
Contact Welfare Benefits and Tax Credits