North East Essex Wheelchair Service

We are a small team consisting of three Occupational Therapists, one Technical Instructor, one Technical Engineer, and three Administrative staff.
We contract the services of DGT to carry out maintenance, repairs, collections and deliveries of equipment. We are part of Colchester Hospital University NHS Foundation Trust (CHUFT).
We assess for and provide wheelchairs, accessories and special seating to people who have a long term disability (expected to last six months or longer), requiring daily wheeled mobility.
We have approximately two and a half thousand wheelchair users of all ages, living in the Colchester and Tendring boroughs.
We are funded by North East Essex NHS Clinical Commissioning Group.
Image Gallery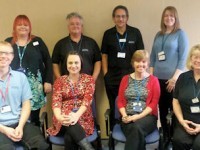 Key Info
Essex County HospitalLexden RoadColchesterCO3 3NBUnited Kingdom
Features
Products
Location:
Contact North East Essex Wheelchair Service