Herts Young Homeless

hyh is an independent charity that has been supporting vulnerable people in Hertfordshire for over 15 years. We have offices throughout Hertfordshire with over 50 staff and many more volunteers. Most of our work is with young people aged 16-24 who have had difficulty in securing and maintaining safe, secure accommodation.
We recognise the importance of preventing homeless situations arising, particularly involving young people. Our experience has enabled us to develop mediation, education and other specialist prevention services with the aim of avoiding the misery of a breakdown in family relationships. Of course this is not always possible, and in those cases we aim to help the young people affected get the chance to fulfil their potential, despite their problems, through offering advice, support and other associated services.
Image Gallery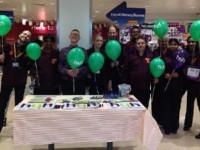 Key Info
1st FloorGracemead HouseWoods AveHatfieldAL10 8HXUnited Kingdom
Features
Products
Location:
Contact Herts Young Homeless