Living Wage Accreditation Officer Vacancies in Scotland
Monday 30 April, 2018
Written by Simon Collyer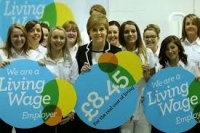 Living Wage Scotland currently have vacancies for Living Wage Accreditation Officers. This is an exciting opportunity to contribute to a high profile national project that engages with employers of all sizes and sectors within Scotland.
Working within a small team, the successful candidates will play a crucial role in ensuring that more employers and workers benefit from the Living Wage. The Accreditation Officers will be responsible for engaging with employers and contributing to the development and updating of materials relevant to the projects aims (case studies, web materials, articles, promotional resources, etc.)
The Living Wage Accreditation Officer post is 35 hours per week.
The contract duration would be fixed term until March 2021.
The post of Living Wage Accreditation Officer will suit an individual who not only has excellent verbal and written communication skills, but also a strong commitment to the struggle for social justice and a desire to tackle in-work poverty. For more information on the role, please contact Julie McGahan or Jack Evans on 0141 353 0440 or click below: