House of Lords Live - Unpaid Work Experience (Prohibition) Bill - Committee stage
Tuesday 13 March, 2018
Written by Simon Collyer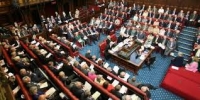 The Unpaid Work Experience (Prohibition) Bill has its committee stage, the first chance for line by line scrutiny, in the Lords on Tuesday 13 February.
This is a private member's bill. A private member's bill is a type of public bill (that affects the public). Private members' bills must go through the same set of procedures as other public bills.
This bill would prohibit unpaid work experience exceeding four weeks.
House of Lords
Tuesday 13 March 2018 Meeting starts at 2.30pm
AGENDA
Oral question 1: Continuation of train services on the East Coast mainline

Lord Beith (Liberal Democrat)
Oral question 2: Adjusting the Apprenticeship Levy to facilitate the improved working of that programme

Lord Blunkett (Labour)
Oral question 3: Government's assessment of the national scale of the "grooming gang scandal"

Lord Pearson of Rannoch (UK Independence Party)
Legislation: Unpaid Work Experience (Prohibition) Bill - Committee stage
Legislation: Supply and Appropriation (Anticipation and Adjustments) Bill - All remaining stages
Legislation: Secure Tenancies (Victims of Domestic Abuse) Bill [HL] - 3rd reading
Legislation: Smart Meters Bill - 2nd reading
Legislation: Unpaid Work Experience (Prohibition) Bill - Committee stage