Storm Caroline Brings a Freezing Blast - Stay Warm
Thursday 07 December, 2017
Written by Simon Collyer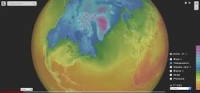 Storm Caroline is set to batter parts of the UK with gales ahead of another freezing cold snap bringing blizzards and heavy snow showers across Britain. The third named storm of this season is set to arrive on Thursday morning, bringing gales of up to 90mph. Snow, ice and strong winds are expected.
We love our Windy TV here at the ABC.
Click on this link below:

1

comment
Comment Link

Thursday 07 December, 2017

posted by Simon Collyer

To all our audience, stay warm during this cold spell. If you go on a long journey, be prepared.