Tory Ruth Davidson Says Cash Is There for Winter Fuel
Sunday 04 June, 2017
Written by Andrew Picken, Sunday Post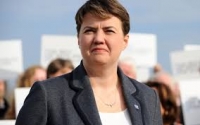 RUTH Davidson has said "the money will be there" to fully fund the winter fuel allowance when the lifeline benefit is devolved to Holyrood.
The universal welfare payment, worth up to £300 a year, will be means-tested in England under a future Conservative Government, but pensioners in Scotland will still get the cash.
Nicola Sturgeon last week raised concerns the UK Government will apply a "whopping great cut" to the benefit before it is devolved to the Scottish Government in 2019.
But Tory leader Miss Davidson last night accused her SNP rival of scaremongering and insisted the allowance will be fully funded.
She told The Sunday Post: "I have spoken to government colleagues down south to ensure that before I wrote that in the Scottish Conservatives manifesto that we can make this work – we absolutely can, and the money will be there.
"There's no extra investment on either side of the Border and nobody is missing out, it is just we are choosing to spend the money in a different way.
"The decision I have made as a devolved leader is that we won't make changes being made in England, winter fuel allowance will be kept as a universal benefit and that is how we chose to spend that money within the envelope."
The winter fuel allowance – introduced by Labour in 1997 – is a universal benefit that sees elderly people given up to £300 a year to help pay heating bills.
Unlike many benefits, it is not currently means-tested and the cut-off point for not getting the payment has still to be revealed, or when the means testing will kick in.
SNP candidate Eilidh Whiteford said: "The Tories' continued refusal to guarantee a fully-funded, devolved winter fuel budget just makes it clear that they cannot be trusted – and will expect the Scottish Government to make up any funding shortfall as a result of their cuts.
"We need guarantees over the budget now – it simply isn't good enough for the Tories to make vague promises."
Meanwhile, Miss Davidson has issued a plea for voters who are not naturally Tory supporters to back her party.
She said: "We are on course to have our best result in 25 years in Scotland in terms of vote share and number of voters, we have already seen what we can do in other elections.
"People have seen in recent votes in Scotland that we can do what we say we will do."
Meanwhile, SNP leader Nicola Sturgeon has said the General Election offers voters a "golden opportunity" to end austerity across the UK.
The First Minister said the poll on June 8 will give people the chance to say "enough is enough" and urged them to back the nationalists, saying "now more than ever it is vital that we have strong SNP voices standing up for Scotland".
Miss Sturgeon has taken to the skies in the final weekend of election campaigning, visiting six key constituencies over the course of Saturday in a branded helicopter – dubbed the "Nicolopter".
She said: "The Tories' austerity agenda has failed on every count – not only has it choked off the economic recovery but the years of underinvestment have put huge pressure on public services across the UK."