The Goedgedacht Trust - Grow Peace UK

Grow Peace is the UK arm of the Goedgedacht Trust. From the UK office all fundraising initiatives within the UK, for Goedgedacht, are managed and run. We also process all UK donations which enables us to claim Gift Aid, increasing the donation value by 25% at no extra cost to the donor.
Many UK schools visit Goedgedacht every year to experience the work being done there & to work alongside the children. They return home having benefited greatly from the experience & inspired to carry on the work from the UK.
In the past 10 years 63 UK schools have visited us at Goedgedacht farm. Each one has helped make profound changes in the lives of rural children. We are enormously grateful to them all. All of us who have had the privilege of education will I am sure subscribe to our bye-line "LIFTING AS WE CLIMB". Getting involved with The Path Out of Poverty (POP) programme is the most marvelous of win-win situations. We give you the opportunity to have a life changing experience and you help us to inspire poor children by sharing your skills. Most importantly these visits are FUN!!
Image Gallery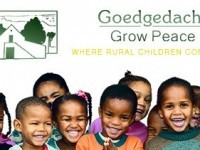 Key Info
27, Lower Brook StreetIpswichSuffolkIP4 1AQUnited Kingdom
Features
Products
Location:
Contact The Goedgedacht Trust - Grow Peace UK