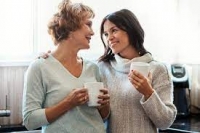 PENSIONS - Industry experts have raised concerns that carers may be at risk of losing valuable pension credits, after a freedom of information request by Quilter revealed an almost 20 per cent fall in the number of people claiming a carer's credit, from 6,489 in 2019 to 5,209 in 2020.
The provider emphasised that each annual credit missed could be costing carers 1/35th of the vale of the state pension, representing around £260 per year or £5,200 over the course of a typical 20-year retirement.

Quilter also noted that whilst the number of claims has fallen, the number of people who became unpaid carers has increased during the pandemic, with figures from six charities supporting Carers Week showing an increase from 4.5 million to 13.6 million in June 2020.

In addition to this, Quilter revealed that just one fifth (20 per cent) of the approximate overall eligible population have claimed the credit to date, with a total of 40,674 carers having now claimed.

In comparison, in 2015, the Department for Work and Pensions estimated that 200,000 carers were eligible for the credit, with women making up a "substantial proportion" of this number.

Commenting on the findings, Quilter financial planner, Olivia Kennedy, said: "In this unprecedented year it is inevitable that we will have seen a dramatic increase in the already sizable unpaid carer population.

"Throughout the pandemic they have continued to prop up support services. However, these people sometimes don't even recognise themselves as carers or the extent of the sacrifice they are making.

"Thinking of their own long-term financial wellbeing is crucial and the state pension is a big part of that, particularly as it's money they rightfully deserve.

"An update on the elusive Social Care White Paper is anticipated in the upcoming Queen's Speech. This long-awaited policy reform needs to take into account the substantial work unpaid carers do and ensure they are getting all the resources and support they deserve as a result."

Industry research has previously highlighted carers as one of the most under-pensioned groups in the UK, with around 53 per cent of carers saving into a private pension, calling for further reforms in light of the news that the majority (81 per cent) of carers are also currently 'locked out' of automatic enrolment.
ABC Comment, have your say below: