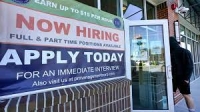 US EMPLOYMENT - Total nonfarm payroll employment rose by 916,000 in March, and the unemployment rate edged down to 6.0 percent, the U.S. Bureau of Labor Statistics has reported.
These improvements in the labor market reflect the continued resumption of economic activity that had been curtailed due to the coronavirus (COVID-19) pandemic.
Job growth was widespread in March, led by gains in leisure and hospitality, public and private education, and construction.
ABC Comment, have your say below;