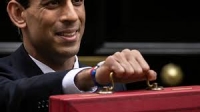 BUDGET DAY - A shocking 715,326 private renters cannot cover the rent they owe with the amount of Universal Credit they receive. These are figures provided by Generation Rent.
Wednesday's budget will be crucial for many and failure to act by the chancellor could bring about a humanitarian crisis on a scale never seen before in the UK. Social Security claimants are finding it difficult to put food on the tables as 14 billion pounds has been taken out of the social security budget since 2010.
The £20-a-week Universal Credit increase introduced during the pandemic is expected to be extended for another six months. It is just kicking the can down the road, however.
ABC Note: This year's Budget speech will be delivered on Wednesday 3 March. It usually starts at about 12:30 GMT and lasts around an hour. Labour leader Sir Keir Starmer gives his response straight afterwards. Government borrowing for this financial year has reached £271bn. That's £222bn more than a year ago.
This has pushed up the national debt to £2.13 trillion. That's more than 99% of GDP.
ABC Comment: A worker on £30,000 a year is contributing over £100 a week in National Insurance. Despite potentially paying in for decades the cash value of benefits paid are paltry and far below that which is needed to sustain even a modest life.
ABC Comment have your say below: