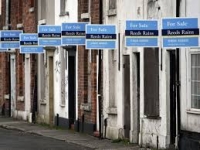 REPOSSESSIONS - The top 20 repossession hotspots England and Wales are shown below.
Mortgage possession claims increased by 42% in 2018. Furthermore mortgage orders for possession, warrants issued, and repossessions also increased by 35%, 31% and 29% respectively.
Blackpool is currently the most affected repossession hotspot in England and Wales, holding 82.7 (83) mortgage possession claims per 100,000 households. Followed by Slough – at 59.6 (60) and Thurrock – at 56.7 (57.)
Alternately, Sellhousefast.uk found the three local authorities with the fewest mortgage possession claims to be: Broadland (5.3 per 100,000 households), Woking (4.8) and Maldon at 3.6.
The Isles of Scilly had no mortgage possession claims in this period.
According to leading debt charity, StepChange mortgage arrears is – jointly with electricity bills and secured loans – a cause of concern for 18% of households** across the UK. Typically, the average arrears amount, relative to mortgage, is a total of £3,005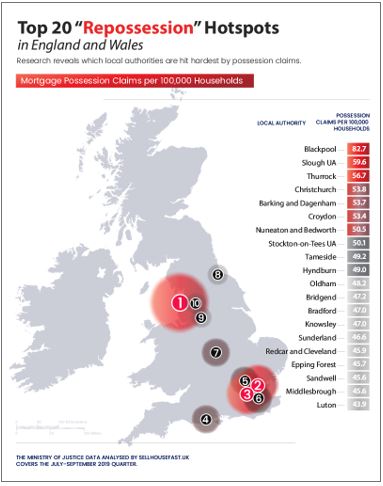 As Christmas and New Year celebrations come to an end and people head back to work, the January Blues have come forward in full force. Stress of increased financial pressure from Christmas debts and emotions running low from failed New Year's resolutions, it is no surprise that many Britons are struggling with their mental health. This has been characterised by reports of increased isolation, social anxiety and indulgence in destructive vices over the Christmas period and into January.
The failure rate of most New Year's resolutions is shocking; recent studies give a failure rate of between 75% and 85% before the end of January, while mid-February sees a drop-out rate of between 90-95%. Those who have a history of drug and alcohol addiction are at particular risk during the January Blues, as temptation to imbibe increases due to the inevitable emotional crash people feel after the festive season. Mental health treatment specialists Smart TMS now reveal the extent of the effect of January Blues on people across the country:
1 in 3 Brits (32%) report a significant decline in enjoyment and satisfaction at work
1 in 4 Brits (25%) said they find themselves regularly cancelling plans more often so they don't have to interact with other people
Almost 1 in 4 (24%) find even basic functions (e.g. sleeping, showering) more difficult
Over half (58%) have witnessed a friend, family member or acquaintance experience a significant deterioration in mental and physical health as a result of alcohol, smoking or drug use
1 in 5 (25%) of Brits say they are too busy to see a medical professional regarding their mental health
ABC Note: Thanks to Gerard Barnes is the CEO of Smart TMS - the UK and Ireland's leading provider of TMS therapy and https://www.sellhousefast.uk/ for bringing us this cheery news this morning.
ABC Comment, have your say below: