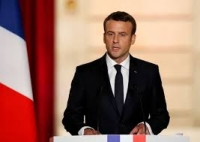 French President Emmanuel Macron's government will tackle social spending in the next wave of its reforms as weaker than expected growth puts pressure on the budget deficit, the prime minister said on Sunday.
Macron has so far largely turned a deaf ear to criticism of his reforms, with detractors dubbing him the president of the rich after cuts to taxes on capital income during his first year in office, which he said encouraged investment.
The prime minister acknowledged that the lower growth is likely to weigh on the public budget deficit, which is already under pressure from plans to make a payroll tax credit scheme permanent.
The government has been under pressure from Brussels and the International Monetary Fund to detail plans to rein in public spending.
Philippe said the government is particularly keen on reducing spending on what he described as ineffective policies such as housing or subsidised jobs.
He said that housing allowances, family welfare benefits and pension payouts would increase by only 0.3 percent in 2019 and 2020. That is far less than the 1.5 percent average inflation rate economists polled by Reuters expect next year and the 1.8 percent expected in 2020.
Meanwhile, the government would consider reducing unemployment benefits over time, Philippe said.
Philippe said that tax on overtime pay would be axed from September 2019 on top of plans do away with worker contributions to financing health and unemployment benefits while also getting rid of housing tax.
There are plans to cut 4,500 state jobs in 2019 and more than 10,000 in 2020.
"This is going to be a real bloodbath for the state and the public services," far-left leader Jean-Luc Melancon told reporters in response to Philippe's comments.
ABC Comment: Have your say below: