Smart Works

Smart Works is a charity focused on helping out-of-work women on low incomes get back into the workforce. We provide interview coaching, high quality interview clothes and styling advice. We help women to feel confident, look fabulous, succeed at their job interview and move on with their life. Smart Works Reading was set-up in October 2015 to target the unemployment in the Thames Valley area.
Client Profile
Women come to Smart Works when they have a job interview lined up, but have not been successful in securing employment. (Oct 2015 – May 2016)
• 40% are lone parents
• 31% have applied for 50 - 100 + jobs
• 18% have been unemployed for more than 5 years.
Our Approach
We help the client with their interview skills and techniques and then style them in a complete outfit including accessories such as tights, bags, make-up etc., appropriate for the job they're hoping to secure. When the client secures the job they come back to Smart Works and we provide them with a capsule wardrobe to wear to work.
Results & Impact
Since opening in October 2015, we have helped over 200 women, and 122 women have successfully secured employment. The impact on these women's lives is huge with a far reaching impact such as:
• Continuing to build their self-esteem and confidence through permanent employment & financial stability & independence
• Enhanced financial impact; becoming financially stable
• Becoming "new & improved" role models for their children
• Having a positive impact on their community and home life
We always welcome support weather financial, time, or donations so please od get in touch if you are interested in learning more.
Image Gallery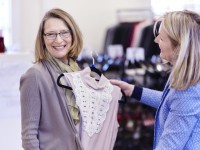 Key Info
94 London StReadingRG1 4SJUnited Kingdom
Features
Products
Location:
Contact Smart Works