Canadian Mining Company Dalradian Aims to Create Hundreds of Jobs In a N. Ireland Gold Mining Project
Saturday 19 May, 2018
Written by Simon Collyer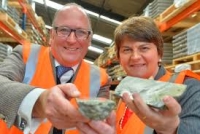 Fancy a job in gold mining? The Canadian mining company Dalradian is aiming to create hundreds of jobs at a gold mine near Gortin in Co Tyrone.
It's a billion-dollar project, but first it has to get planning permission.
However if it does get the green light then the mine would be operational for at least 20 years.
ABC Note: This 3D video is very informative. A huge project, it could provide much needed local prosperity.
1

comment
Comment Link

Saturday 19 May, 2018

posted by Simon Collyer

Didn't the people who made money out of the American Gold rush make it selling, stores, picks, shovels, tents and dynamite, not to mention Levi Jeans.

Report
Leave a comment
Make sure you enter all the required information, indicated by an asterisk (*). HTML code is not allowed.