Tories Using Sanctions Threat to Force Low Paid Into Zero-Hours Contracts
Tuesday 12 September, 2017
Written by Simon Collyer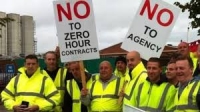 The SNP has attacked the Tory government for forcing low paid workers into exploitative zero-hours contracts and financial destitution – after ministers confirmed that Universal Credit claimants will now face costly benefit sanctions if they do not accept a zero-hours job offer.

Responding to a Parliamentary Question from SNP Social Justice spokesperson Neil Gray MP, Department for Work and Pensions (DWP) Minister Damian Hinds confirmed that while Jobseeker's Allowance claimants are not required to apply for zero-hours contract jobs and cannot be sanctioned for refusing an offer, Universal Credit claimants are expected to apply and can be sanctioned. With the full accelerated roll-out of Universal Credit replacing Job Seekers' Allowance this is likely to become standard policy for all job-seeking claimants.

By forcing people to take zero-hours jobs, the Tory government is pushing them into the arms of unscrupulous employers who can use the exploitative contracts knowing claimants have no choice but to accept. Due to the way Universal Credit is paid monthly in arrears, this means if a worker is offered few or no contracted hours in a period they then have little or no income to rely on – marking a significant change from Job Seekers Allowance and pushing people into destitution, crisis and emergency aid.

The confirmation this damaging policy will go ahead marks yet another failure of the Tory government's Universal Credit and sanctions system, which has been beset by problems and has pushed many claimants in Scotland into financial hardship and rent arrears. Last week the UN committee on the Rights of Persons with Disabilities called for a review of UK government benefit sanctions, highlighting their detrimental effect on recipients. The SNP want to see a wide-ranging review of UK government benefit sanctions, a halt to the roll-out of Universal Credit, and a ban on exploitative zero-hours contracts.
Leave a comment
Make sure you enter all the required information, indicated by an asterisk (*). HTML code is not allowed.