Hurricane Harvey Causes Job Losses
Friday 08 September, 2017
Written by Reuters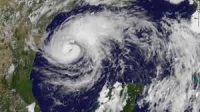 The number of Americans filing for unemployment benefits jumped to a more than two-year high last week amid a surge in applications in hurricane-ravaged Texas, but the underlying trend remained consistent with a strong labor market.
The surge in claims reported by the Labor Department on Thursday offered an early glimpse of Hurricane Harvey's impact on the economy. The storm unleashed unprecedented flooding in Houston, disrupting oil, natural gas and petrochemical production and forcing a temporary closure of refineries.
As Texas tries to recover from the late August storm, Florida is bracing for Hurricane Irma, which is expected to make landfall over the weekend.
Economists say Harvey could put a dent in third-quarter gross domestic product and hold back job growth in September. But they expect any lost output to be recouped in the fourth quarter and payrolls growth to rebound in October.
"The near-term economic impact of what increasingly appears to be two severe natural disasters near one another will be a clear negative," said Jim Baird, chief investment officer at Plante Moran Financial Advisors in Kalamazoo, Michigan. "Having said that, the national economy appears to remain on track."
Initial claims for state unemployment benefits surged 62,000 to a seasonally adjusted 298,000 for the week ended Sept. 2, the highest level since April 2015, the Labor Department said. The weekly increase was the largest since November 2012. A Labor Department official said last week's data had been impacted by Hurricane Harvey.
Unadjusted claims for Texas surged 51,637 last week as some people found themselves temporarily unemployed. That accounted for 95.6 percent of the increase in unadjusted claims last week.
Economists had forecast claims rising to 241,000 in the latest week. Claims could stay elevated for the next few weeks.
Labor market firming
Despite last week's jump, claims remained below 300,000, a threshold associated with a robust labor market, for the 131st straight week. That is the longest such stretch since 1970, when the labor market was smaller.
The four-week moving average of claims, considered a better measure of labor market trends as it irons out week-to-week volatility, increased by 13,500 to 250,250 last week, still suggesting the labor market continues to strengthen.
There are concerns, however, that disruptions from the flooding in Houston could hurt job growth in September. Employment in Houston is a little over 3 million.
"If employment were to decline by just 5 percent, that would mean a job loss of 150,000," said Michelle Girard, chief economist at NatWest Markets in Stamford, Connecticut. "We do not rule out the possibility of a negative payroll print in September, especially given the potential for further damage from Hurricane Irma."
The economy created 156,000 jobs in August, a slowdown in job growth that was largely blamed on a seasonal quirk.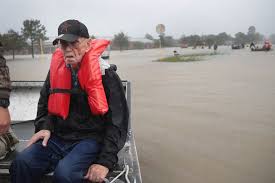 Image: Tropical Storm Harvey
ABC Note:
Tropical Storm Harvey was downgraded to a tropical depression Thursday, but it continued to dump massive amounts of rain on parts of eastern Texas, Louisiana, and southern Arkansas. Since Aug. 25, Harvey has flooded the Houston area with almost 52 inches of rain, a single-storm record for the contiguous U.S. The rain subsided Wednesday, giving some people a chance to evacuate their homes. But flood waters remained high throughout the city.
So far, close to 94,000 homes have been damaged or destroyed in the historic flooding, the BBC reported Sept. 1. At least 40 people have died as a result of the storm. Flood waters in Beaumont, Texas disabled the two pumps powering the city's entire water supply, leaving residents without water to bathe or drink.
1

comment
Comment Link

Friday 08 September, 2017

posted by Simon Collyer

There is a whole lot more trouble coming after Hurricane Irma. The US economy is growing however.

Report
Leave a comment
Make sure you enter all the required information, indicated by an asterisk (*). HTML code is not allowed.