Welsh Families See Family Fund Budget Cut
Wednesday 16 August, 2017
Written by Simon Collyer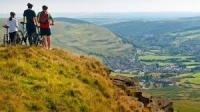 Plaid Cymru has warned that up to 3,700 families in Wales have lost out on support after the Labour Welsh Government cut the Family Fund budget.
The fund, which distributes grants to families with ill and disabled children, helped 1,686 families last year (2016/17), down from 5,429 families helped in 2015/16.
The fund operates across the UK, but is funded by each government. Only in Wales has there been cuts to the budget provided to the fund.
In a Plaid Cymru debate in March 2017, Labour AMs voted against a Plaid Cymru motion to reverse the cuts. At the time, the Deputy Minister for Social Services responded to the debate by saying "It's neither accurate nor fair to suggest that there has been a cut in support for disabled families". However, figures show that the support has been cut.
Plaid Cymru Shadow Cabinet Secretary for Health, Rhun ap Iorwerth said:
"The Family Fund offers financial support to families with ill and disabled children to buy equipment that they need but because of Labour's decision to cut the fund, 3,700 fewer of these families have been helped this year compared to last. This is the heartbreaking effect of Labour's cuts.
"What makes it worse is Labour's refusal to accept that there has been a cut in support. The entire sector had warned that changes to the way the Family Fund was to be financed would mean thousands of the poorest families with disabled children would lose out. Yet Labour ignored these warnings and not only went ahead with the cuts, but refused to acknowledge making the mistake when Plaid Cymru tried to make them see sense.
"I want to see these cuts reversed. I refuse to believe that the government would deliberately want to make over 3,700 poor families with disabled children poorer. This has always been about the unintended consequences of changes to funding mechanisms. So now we know for sure the extent to which the changes have harmed these families, I cannot see why the cuts can't be reversed.
"I hope that the government will see sense."
Leave a comment
Make sure you enter all the required information, indicated by an asterisk (*). HTML code is not allowed.