Scottish Social Security Committee Needs Your Views
Friday 30 June, 2017
Written by Simon Collyer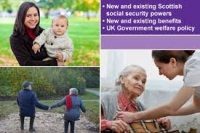 Social Security Committee
Simon, I am emailing to make you aware of the Social Security Committee's call for views on the Social Security (Scotland) Bill. Please find attached a link to it below.
http://www.parliament.scot/parliamentarybusiness/CurrentCommittees/105193.aspx
It will soon be available in a number of accessible formats including BSL, Easy Read, audio and large print. These will be available via the link above within the next couple of weeks.
Please let your audience see the video (shown below). We would be grateful if you could share it with any other interested parties / organisations you may be aware of.
The Committee would be grateful to receive written submissions by Wednesday 23 August 2017.
You audience can keep up to date with the progress of Bill and the Committee's work in general by following us on Twitter @SP_SocialSecur.
Kind regards
Suzanne Lyden
Committee Assistant
Social Security Committee
Scottish Parliament
Scottish Social Security Committee's call for views on the Social Security (Scotland) Bill