Meet Fred A Two Foot High Puppet Who Fights Prejudice
Monday 08 May, 2017
Written by Simon Collyer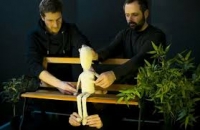 Meet Fred
Meet Fred, the two foot tall cloth puppet that fights prejudice every day. He just wants to be a regular guy, part of the real world, to get a job and meet a girl, but when threatened with losing his PLA (Puppetry Living Allowance), Fred's life begins to spiral out of his control. Contains strong language and puppet nudity.
Hijinx and Inclusion Hijinx is an inclusive theatre company based in Cardiff, all their productions include learning disabled performers alongside performers without learning disability. To support their work, they have a network of Academies around Wales that train learning disabled performers in a variety of skills. The Company provides this training because it is virtually impossible for an actor with learning disability to access more traditional drama schools or universities.
When ready, students from their Academies join the Company on their professional productions. This ensures that our work is always of the highest quality, with all artists starting a process on an equal footing. Meet Fred features three of our performers with learning disability, all of whom were heavily involved in the devising of the production.
Blind Summit
Based in London, Blind Summit is recognised as one of the UK's most exciting companies working with puppetry. They have had huge success with productions such as The Table and Citizen Puppet, and often work with companies such as Complicite and ENO. Hijinx came into contact with Blind Summit in April 2014 when we invited them to run a week's training in puppetry for our Academy students in Cardiff. We were joined by three of their artists, including Artistic Director Mark Down, it was during this week that the seed for making an inclusive production with a puppet was sown.
The Process
'...As we explored the concept of creating an inclusive show with a puppet, the parallels between life for a puppet, and the learning-disabled artists that we work with quickly became apparent. Just as many of the people that we work with rely on support in order to live an independent life, so Fred relies on his three puppeteers simply to exist. The relationship of dependence and interdependence that exists between Fred and his puppeteers is the exact same situation that many people with learning disability and disability in general face in their everyday life. Inevitably during a devising process it is the people that you have in the room that ultimately influence in what direction a piece may go, and crucially what their experience is of the world at any given time. As we were making this show, many of our learning disabled performers were living through the current overhaul of the benefits system by our wonderful Tory government...'
'...We began to explore how life would be for Fred if he also lived in this environment, what would happen if Fred is threatened with losing his Puppetry Living Allowance, what would Fred be without his puppeteers, would he even survive? Suddenly, instead of the whimsical, light puppet show we had envisaged, we had a serious political message on our hands, but one that could be presented with hilarity and made seem all the more ridiculous when seen through the eyes of our puppet hero Fred...'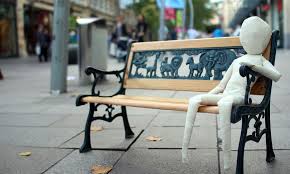 Image: Meet Fred
Following a successful run at Summerhall as part of the Edinburgh Fringe Festival in 2016, Meet Fred is touring extensively in 2017:
"Sharp, funny and vastly entertaining", Lyn Gardner, The Guardian
Meet Fred Tour Dates 2017
| | |
| --- | --- |
| Date | Venue |
| 20 - 21 January | Chapter, Cardiff |
| 24 - 25 January | Ustinov Studio, Theatre Royal Bath |
| 27 January | Neuadd Dwyfor, Pwllheli |
| 28 January | Galeri Caernarfon |
| 01 February | Halliwell Theatre, UWTSD *Closed Perf* |
| 02 - 04 February | Salisbury Playhouse |
| 06 February | Soar Centre, Penygraig |
| 07 February | The Electric Theatre, Guildford |
| 08 February | The Woodville Theatre, Gravesend |
| 09 February | The Spring, Havant |
| 10 February | Ashcroft Arts Centre |
| 11 February | Cornerstone, Didcot |
| 21 February | York Theatre Royal |
| 22 – 25 February | Back to Ours Festival, Hull |
| 28 February | South Street, Reading |
| 01 - 05 March | Little Angel Theatre, London |
| 07 March | Theatr Mwldan, Cardigan |
| 08 March | Newbury Corn Exchange |
| 09 March | Old Fire Station, Oxford |
| 10 March | Attenborough Arts Centre, Leicester |
| 14 March | Artrix, Bromsgrove |
| 15 March | Arena Theatre, Wolverhampton |
| 16 March | Carriageworks Theatre, Leeds |
| 17 March | Junction, Goole |
| 18 March | Lichfield Garrick |
| 21 March | The New Wolsey Theatre, Ipswich |
| 22 March | IMPACT, Perivale |
| 23 March | Hertford Theatre |
| 25 March | Norwich Playhouse |
| 29 March | Tacchi-Morris Arts Centre, Taunton |
| 31 March | Theatr Brycheiniog, Brecon |
| 01 April | Hafren, Newtown |
| 04 April | Aberystwyth Arts Centre |
| 05 – 07 April | The Albany, Canada Water Culture Space |
| 08 April | Ffwrnes, Llanelli |
| 26 April | Queen's Hall Arts Centre, Hexham |
| 27 April | Square Chapel Centre for the Arts, Halifax |
| 28 April | The Grand Theatre Blackpool |
| 02 May | Mumford Theatre, Cambridge |
| 03 May | ARC Stockton |
| 04 May | Barnsley Civic |
| 05 May | Rosehill Theatre, Whitehaven |
| 06 May | Brewery Arts Centre, Kendal |
| 09 May | mac birmingham |
| 10 May | Borough Theatre, Abergavenny |
| 11 – 13 May | Theatr Clwyd, Mold |
| 19 - 21 May | Brighton Fringe |